The ninth annual conference on the Internet in Serbia – DIDS 2018 – is being held at the Metropol Palace Hotel, Belgrade, on 6th and 7th March, organised by the Serbian National Internet Domain Registry Foundation (RNIDS), under the slogan "Guardians of Internet Identity".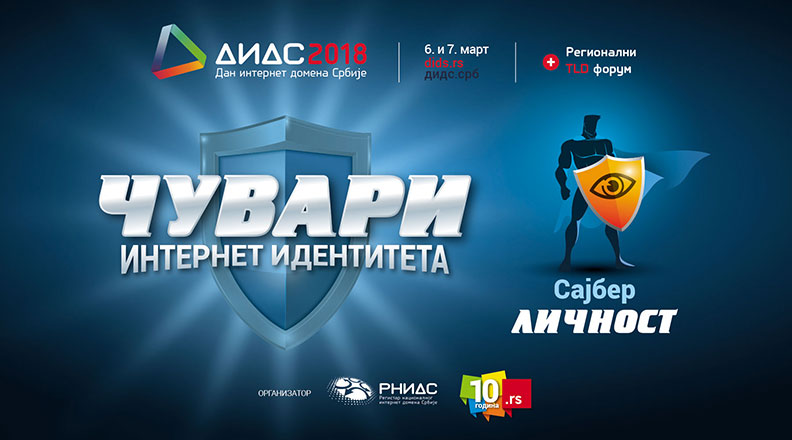 The first block of DIDS traditionally addresses the hottest current Internet topic, which this year is the General Data Protection Regulation – the GDPR. The common currency of the digital age isn't the dollar and it isn't bitcoin – it's private data. All of our smart devices are collecting it, as are sensors all around us, and other people's computers, which we call the "cloud". The services we use are also collecting it, and so are the institutions we communicate with. The data is processed, cross-referenced and bundled up. Then it is shared, stolen or leaked – or it is sold. It is used by individuals, criminals, companies, institutions and the security services. Our private lives are irreversibly becoming public, and being monetised.
The European Union is coming up with a regulatory response in the form of the GDPR, which comes into force at the end of May and lays out how the personal data of EU citizens is to be handled. These rules will also be imposed at a global level, for anyone wishing to use this data in any way.
The GDPR – but even more so the reality of our accelerated, digitalised lives – opens up a plethora of important questions. Is there a difference between privacy and personal data protection? Can privacy be assured even if private data is being collected? And what is private data anyway? How is it defined in the GDPR, and what regulations will this bring? How does the GDPR protect the rights of individuals? How will it affect markets outside the EU? How should institutions and companies in Serbia respond to the GDPR? What is the role of the Ombudsman? Will there be any adverse effects of the implementation of the GDPR for the economy and for innovation? How does the GDPR affect the domain space? And what will the future bring?
These are the topics we will be discussing during the "Cyber Personality" panel debate with our guests:
Thomas Rickert, attorney from Germany and leader of the Names & Numbers Forum at eco – the Association of the Internet Industry – who will also be giving the introductory talk
Cormac Callanan, PhD, CEO of Aconite Internet Solutions, Ireland
Nevena Ružić, assistant to the general secretary of the Office of the Commissioner for Information of Public Importance and Personal Data Protection
The panel moderator will be Vladimir Radunović, director of the cyber-security and e-diplomacy programme at the DiploFoundation
As always, DIDS is free for all visitors, but registration is required due to limited space. All those interested can register via this website, at dids.rs and дидс.срб.